Zoom workshops and demonstrations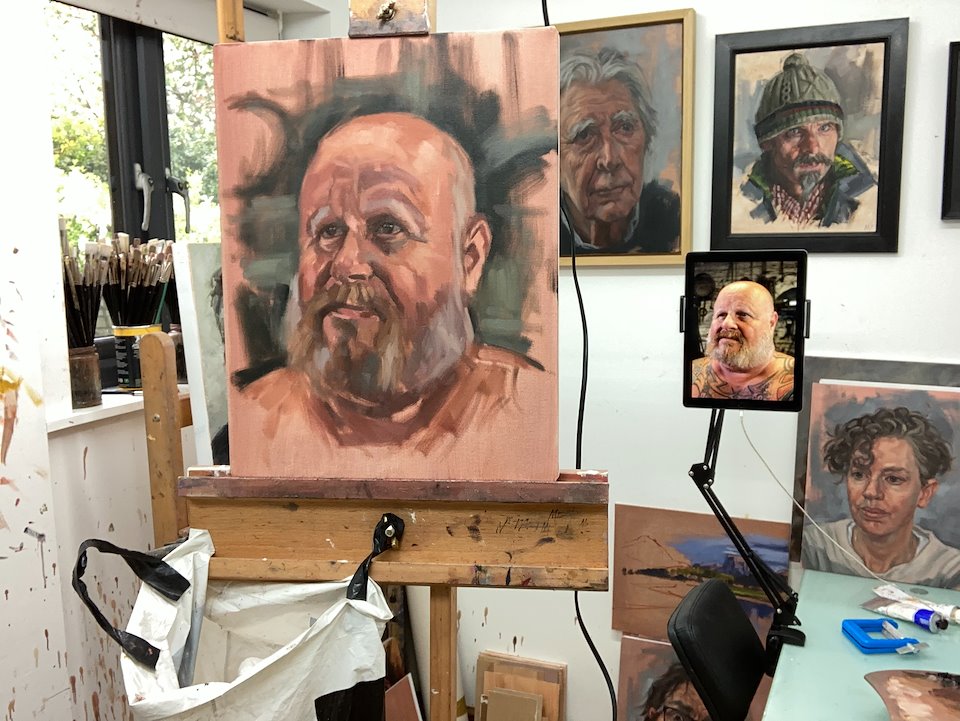 Due to the current global pandemic i'm now running the occasional workshop and demonstration via Zoom from my studio. I'm taking bookings for 2 hour demonstrations and one day workshops for art groups and societies across the uk.
Here's an example of one a ran earlier this year.
One day Portrait Painting Workshop via Zoom.

£50

Saturday 27th February 2021
 10am – 4pm,
includes 30 minute break for lunch.

This one day workshop will focus on the basics of portrait painting, working wet-on-wet, or alla prima with a limited palette of three colors plus white, famously used by Swedish painter Anders Zorn to create beautiful skin tones.

The workshop aims to help artists develop their paint and brush handling towards achieving expressive, yet realistic portraits in a more immediate way.

The workshop will be broken down into three stages -

Stage 1.
sketching out/painting the proportions of the head
Stage 2.
Colour mixing, blocking in flesh tones and tonal values
Stage 3.
Painting the details and highlights


After each demonstration there will be a short break for feedback.
Some people may wish to paint along with me and some may wish to just watch, take notes and paint after my demonstrations, i will leave that up to the attendees so that they can work at their own pace and not feel rushed.


Photographic references will be supplied or alternatively you can use your own subject/references to paint from.

After the workshop you will be emailed a link to the video of the workshop which will be available for you to watch for 7 days.


Testimonials

"I thought the workshop went really well he is very engaging, has a very easy friendly manner, I'd certainly do another of his workshops as I like his style"
" I really enjoyed it. I found it a useful and straightforward way to approach a portrait"
" I thought the workshop was brilliant – thank you. I have been doing classes for five years and avoided painting people, portraits, hands – all of it"
"Thank you for a fabulous workshop, I enjoyed every minute of it"
" I thoroughly enjoyed Mark demonstrate his portraiture skills, which I found extremely helpful. The time went too quick as I found his technique really absorbing"
"Really good morning painting along with Mark, who gave us some interesting and original ideas on how to construct a portrait – will definitely try that technique again"